Post by Deleted on Jan 4, 2016 20:11:17 GMT 1
Hello FarCry Community gamerz!

The FarCry Era still continues! Now we remade our good old FarCry extension, XT.
Our new FarCry AddOn LastResistance, enables some well known things.
1. MapDownloading!
Mapdownloader, the most important thing in FarCry, where to get maps??
Yeah there we go! We have made a MapDownload panel, were players can download over 200 different maps(At the moment).
It is well known from eXcaliTrone as the Map-Updater, but instead of Updating, it is a Downloader, which shows the maps the webspace enables, to you.
Also we enable a automatic mapdownload when you get kicked, from the server. Well known as a small window.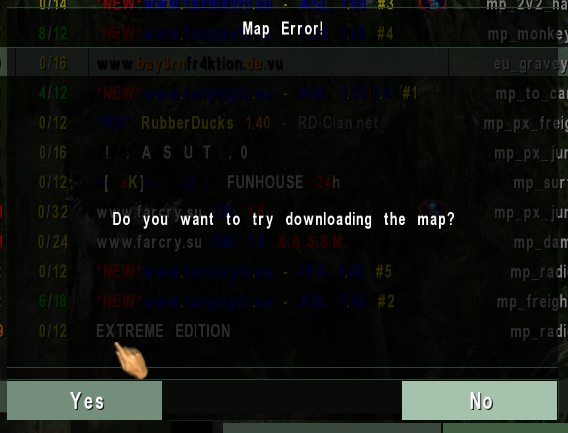 Do you want to try downloading the map??
Click yes! And try it!
If your Download was successfully, than reconnect!
Moment... I need to wait 5 min, my CDKey is stock(Invalid CDKey).
NO. Not anymore, you can directly reconnect after the download

Thats it! Enjoy your game!

2. Easy Panels! (UserPanel and QuickPanel)
Yeah still existing, UserPanel and QuickPanel ;-)
1r The UserPanel!
The UserPanel has get some small fixes, but not much, it's still like we remember it

2n The QuickPanel!
The QuickPanel was not modified, it is still like we remember it

3. Unofficial FarCry Servers are Back!
Like we know FCMP was very usefull in the old times, but FCMP is not anymore online, or in use.
So we remade the FCMP function, they are working over our web server, which enables the server registration, and makes that the servers are shown in the LR serverlist. Like we know from FCMP, CDKey and Ubi login is not needed

Server admins can easy register they servers to this list, by Clicking the Register FC Server button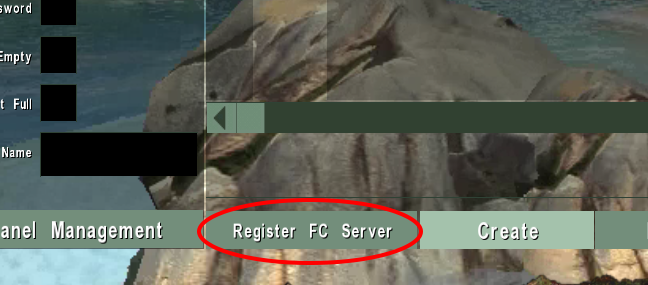 Type the Server IP and Port, click okay! And your server is listed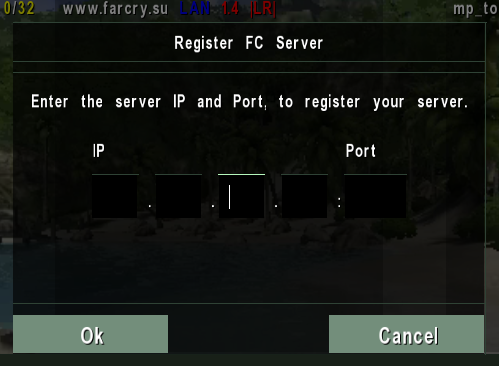 Have fun, and enjoy your game

3. Only English?
We have added some extra languages, english is not anymore the onliest enabled language.
We enable.
English
German
Spanish
Polish
Czech
More incomming!
Go to the Multiplayer menu, select your language, and that's it!
We have also modified the Multiplayer menu of course

Q: Where stays the current MapDownload Server?
A: Currently it stays in the UK (United Kingdom)
We also fixed some bugs, the principal bug was the "CDKey Invalid" Bug which is well known in 1.4
CDKey Error: Status Fixed 99%
Q: Why remaking XT, and why using it?
A: We want to re-enable a FarCry extension which you can use in your normal 1.4 game, which is not it's own Patch/Mod, which not needs it's own servers, where to use it on. This AddOn, you can use it on every 1.4/1.33 server, it gives only the most important things to you. For us, the most important thing is, to continue playing custom maps!
We want to give you the easiest way to get maps on your FarCry, and this way, gives you this AddOn.
We don't require anybody to use it, we want only to help the FarCry Community 2014-2016
Your LR Team

Visit our website for more information and clear Instroductions :
farcrylraddon.de